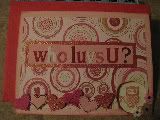 Where have the past couple of weeks gone? I have been so busy planning for the upcoming crop. Now the crop is in full swing and we have lots of creative artist there creating. Thanks to all that are participating. Well the rain is back for us and we are looking at 7 days of rain. Boy we sure need it.
The card above was made with some yummy Heidi Grace and using my fiskar's heart punch and circle punch. It was a quick card i made for a co worker.
If you get a chance stop my www.liveimaginecreate.proboards.com We are doing our first creative team call. Everyone is welcome to try out and we look forward to getting to know you.